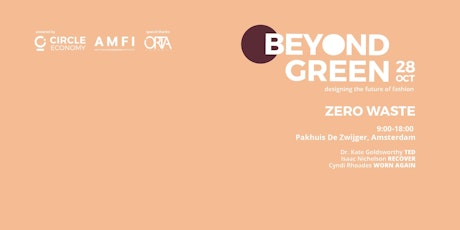 Last time I wrote you about law of attraction, and my plan to overcome negative thinking. I can say I feel the result after this short period already. I feel much better since I consciously started to think positively. I finished the project in time, I passed it and today I was at a sustainable fashion symposium, which gave me a huge push.
As I mentioned to you, the past month hasn't been how I planned, and I lost the motivation for school, I got confused why even I'm doing this. But taking part on Beyond Green give me motivation, and inspired me. I had a feeling that I want to be the part of the change what is happening in the fashion industry.
The first part of the event was about the technical part of fashion: mechanic recycling, chemical recycling, how to make fashion less wasteful. I enjoyed the speech of Cyndi Rhoades from Worn Again and Isaac Nichelson from Recovered, because they showed solution how to reduce or even eliminate textile waste. I think these techniques are crucial to be able to create a circular system, but I believe that changing the costumers mindset and consumption pattern to make people actually DEMAND these kind of fabrics is equally important.
I really admire their work, and these technical changes make the shift from liner to circular possible. But what I also realized in the break is that I'm more interested in educating people and explain WHY they should choose an upcycled fabric than actually MAKING them. This means that I'm really happy that these fabrics are existing, but what I want to do is to make people to know about these fabrics and choose this fabrics.
What I'm going to do is to dive deeper into consumer psychology, learn why people buy what they buy, and change their behaviour. I'm not sure how I'm going to do that, but my desire to be on that stage in the future is too big, so I have to start to work my ass of. Oh and work on my networking skills. I'm really bad at that.
We even got this supercool bag
---
A legutóbbi postban a Bevonzás Törvényéről írtam, és arra a következtetésre jutottam, hogy működik. Ilyen rövid idő után is érzem a pozitív változást. Időben sikerült befejeznem a sulis projected, át is mentem a vizsgán, és a mai nap részt vettem egy fenntartható divat eseményen, amire nagy szükségem volt.
Már említettem, hogy az elmúlt hónapok nem úgy alakultak, ahogy én azt elterveztem. Teljesen elvesztettem a motivációt az iskola iránt, összezavarodtam, hogy miért is csinálom én ezt az egészet. De a mai esemény egy új löketet adott, nagyon inspiráló volt látni és hallani azokat az embereket, akiknek a munkáját csodálom, és azokat a diákokat, akik a változáson dolgoznak. Végig az volt az érzésem, hogy én is ott akarok lenni a színpadon, és arról beszélni, hogy mennyi mindent tettem a változásért. Igen, igen ahhoz először tennem kéne valamit. De dolgozom az ügyön és remélem, hamarosan lesz valami kézzelfogható eredménye is.
Ez esemény első felében a divat technikai részéről volt szó: mechanikus és kémiai textil újrahasznosítás. Nagyon élveztem Cyndi Rhoades (Worn Again alapítója) and Isaac Nichelson (Recovered alapítója) beszédét, nem, csak azért mert már sokat olvastam a munkájukról, de azért is, mert nagyon tanulságosak voltak. Mindkét technológia fontos része a körkörös gazdaság (circular economy, ne haragudjatok, de annyira borzasztó vagyok a magyarra fordításban) kialakításában, de szerintem a vásárlók hozzáállásának és a költekezési szokások megváltoztatása ugyanannyira fontos. Hiszen kereslet kell a kínálatra.
Nagyra becsülöm a munkájukat, mert ezek a technológiai fejlesztések teszik lehetővé, hogy egyenes vonalúból körkörössé változzon a gazdaság, De a szünetben, amikor volt egy pár percem elgondolkozni, rájöttem, hogy engem sokkal jobban érdekel az, hogy az emberek véleményét\ szokásai megváltoztassam, és elmagyarázza, hogy MIÉRT válasszák az újrahasznosított anyagokat, minthogy azok ELKÉSZÍTÉSÉVEL foglalkozzak.
Ezért a tervem az elkövetkezendő időre: még jobban belemerülni a vásárlói pszichológiába, megérteni, hogy az emberek miért vásárolnak, és változtatni ezen. Hogy hogyan fogom ezt véghezinni, azt még nem tudom, de biztos vagyok benne, hogy idő közben megjön az ötlet.