Recently we have seen an intense growth of sustainable lines from fast fashion brands. H&M has Conscious, Zara now has the Join Life collection, Topshop had Reclaim. This clearly shows that there is an increasing demand for ethical and sustainable fashion. It makes me so happy. But on the other hand I'm pissed, because we are totally greenwashed.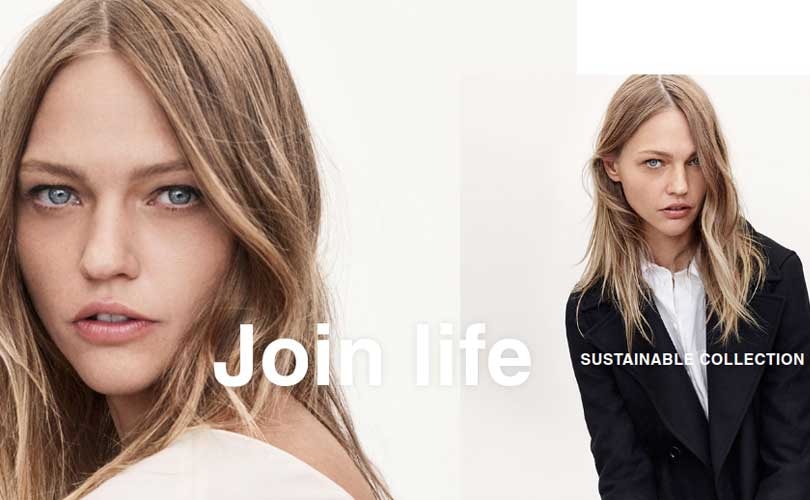 I read a lot of reviews about Zara's new line, mainly from fashion blogs and magazines. Everybody talks about the style, and the feeling of the fabrics, and how fantastic that they can shop in Zara without any remorse. But can they?
Zara now has 20 designs that are produced "sustainably". And endless that are not. The claims on their website is the same as H&M's: sustainable fabrics, energy efficiency, collecting old clothes, etc.. I feel that some of their claims are very vague and misleading (just like H&M's)
83% of their website energy comes from sustainable energy resources. Very nice statement, but what about the other millions of kW that they use during production, in their stores and offices. If we say that 10% (idk the exact proportion) of all the energy usage goes to website and from that 83% is sustainable. The result is that 8.3% of their allover energy consumption is sustainable. And 91,7% is unsustainable. Sounds different right? Don't you feel betrayed? It is simple psychology. If you just run through the facts 83% of sustainable energy sounds very convincing.
Sorry guys, I'm really critical about this kind of shit. Because these fast fashion brands make it look like they are really sustainable when at the end, they are still a fast fashion retailer. 1 line of sustainably made clothes does not make up for the millions of unsustainable, poorly constructed, throwaway fashion. I'm pissed because Zara convinces customers that they are the good guys, fighting for a better future. In reality they are the same retailer who prepares fall apart clothes to make customers buy more. They depend on the increasing consumption, and changing trends. Is that sustainable? Not at all. But with a "sustainable" line they can make people believe that they can shop at Zara without remorse. Simple marketing.
Do not misunderstand me, I'm really happy that the demand is increasing. I just wish we wouldn't be greenwashed, and everybody would be educated enough to see through the surface. So let's start educting ourselves by getting familiar with the term: greenwashing.
And we are greenwashed big time by fast fashion brands.
---
Az etikus divat iránti igény az elmúlt időben intenzíven növekedett. Mi sem mutatja ezt jobban, mint a fast fashion brandek "fenntartható" kollekciói: az H&M Conscious kollekciója, a Topshop Reclaim kollekciója, és most a Zara Join Life kollekciója. Egy részről nagyon örülök, hogy az igény növekszik, más részről viszont nagyon mérges vagyok, mert minden fast fashion brand által piacra dobott "fenntartható" kollekció csak képmutatás.
Sok véleményt elolvastam a Zara új kollekciójáról, blogokon és divatmagazinokban. Mindenki a stílusról, színekről, anyagok tapintásáról beszél. És természetesen arról, hogy mennyire egyszerű lesz mostantól "fenntarthatóan" vásárolni. Tényleg?
A Zarában most már lehet kapni 20 ruhát, amit "fenntarthatóan" állítottak elő, és milliónyit, amit nem. A weboldalukon felsorolt néhány fenntarthatósági irányelveket nagyon homályosnak és félrevezetőnek találom.
Például a weboldal üzemeltetésére használt energia 83% fenntartható energiaforrásból szármaszik. Ez nagyon szép állítás, de mi van a többi milliónyi kW-al, amit az előállítás során a boltokban és az irodákban használnak fel? Ha azt mondjuk, hogy az összes energiafogyasztásnak a 10%-át (nem tudom a pontos adatokat, ez csak egy kitalált szám) használják a weboldal fenntartására és annak 83% fenntartható, akkor végeredményben azt kapjuk, hogy az összesen felhasznált energia 8,3% fenntartható, és maradék 91,7% nem fenntartható. Ez mindjárt máshogy hangzik nem? Nem érzitek magatokat becsapva? De ez csak szimpla pszichológia. Ha gyorsan végigszaladsz az oldalon, és azt látod, hogy 83% fenntartható energia az azért elég jól hangzik nem?
Ne haragudjatok, de nagyon kritikus tudok lenni az ilyen átverésekkel kapcsolatban. Mert a Zara meggyőzi az embereket, hogy ő a jófiú, harcol egy jobb jövőért, miközben ugyanaz a növekvő fogyasztástól függő üzlet marad, ami gyenge minőségű ruhákat gyárt, hogy 3 hónap múlva újat kelljen venni. 1 fenntartható kollekció nem tudja jóvátenni a milliónyi rosszul legyártott, széteső ruhadarabot, ami a fogyasztói társadalmat erősíti. Ez fenntartható? Egy cseppet sem. De egy "fenntartható" kollekció jó marketing fogás, és elhiteti az emberekkel, hogy lelkiismeret furdalás nélkül vásárolhatnak a Zarában.
Ne értsetek félre, én nagyon örülök, hogy egyre növekszik az igény az etikus divat iránt. Viszont az nem tetszik, hogy megpróbálnak minket becsapni, és azt kívánom, bárcsak mindenki belegondolna a dolgokban, és túl tudna látni a csillivilli felszínen.